SHOWCASE SERIES - Healthcare Services: market consolidation
The surge in fast growth private equity buy and build deals in healthcare services over the past few years has been exceptional and despite a brief COVID-19 related lull, seems to be continuing at pace. Bain and Company recently reported that the sector had the second-highest disclosed deal value globally after biopharma, despite this declining to $30.3 billion compared with $35.5 billion in 2018; in 2019 it accounted for 159 of 313 healthcare deals.
Deals involving retail health companies, commercially owned outpatient clinics, practice chains and broader healthcare services, have been a key component of this sustained interest, and the sector remains attractive globally (see Figure 1). The US, with the highest number of deals by region, has seen buy and build deals across all market segments including behavioural health, physician practices and ophthalmology. In Europe, with its highly fragmented landscape, there has been notable M&A activity in dental practices, veterinary care, aesthetics and ophthalmology clinics². Despite regulatory challenges, investors in all regions remain active in targeting consolidation opportunities which offer efficiencies, improved customer experiences and attractive returns.
Figure 1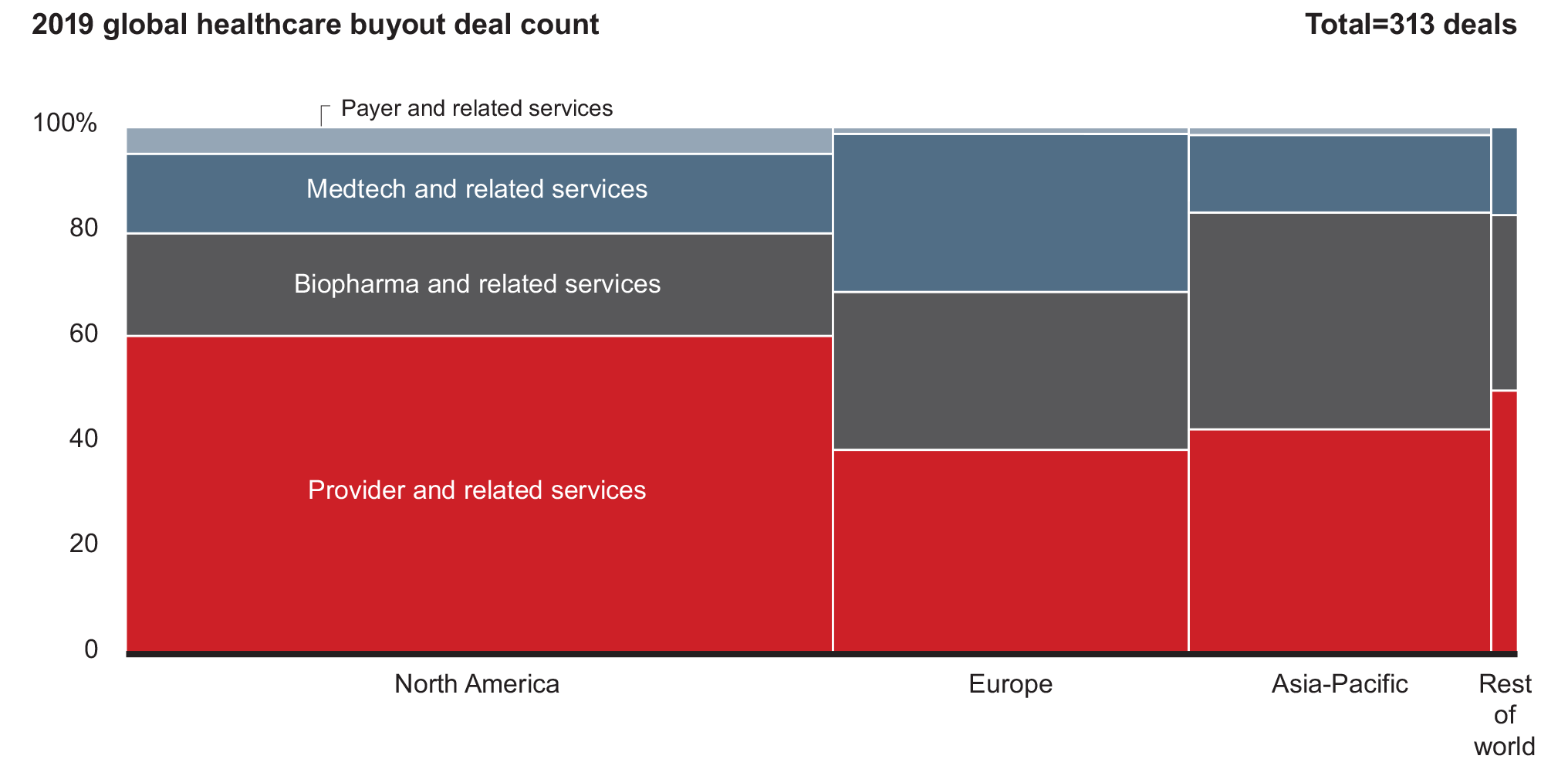 Source: Bain, March 2020¹
But what will excite investors next? Competition is increasing from a broader base of non-traditional investors – pension fund, infrastructure and corporate investors, as well as new investors from APAC, who are recognising the potential in market roll-ups.
Coulter Partners has been working on many search assignments across a variety of such roll-up models in Europe, US and APAC, and despite the current economic climate and COVID-19 pandemic, the space continues to be busy. Most recently we have been very active in animal health, ophthalmology and dental clinics and services. Ensuring the right leadership team is in place early on has proved to be a significant key to success. Identifying and executing acquisitions takes very strong management, especially if the target market is highly fragmented (see Figure 2). In this context a huge benefit of consolidation and building scale in an organisation is how it attracts and motivates strong, new leadership talent…an opportunity but also a challenge.
Figure 2 The level of fragmentation in each subsegment broadly correlates with the number of attractive opportunities within that subsegment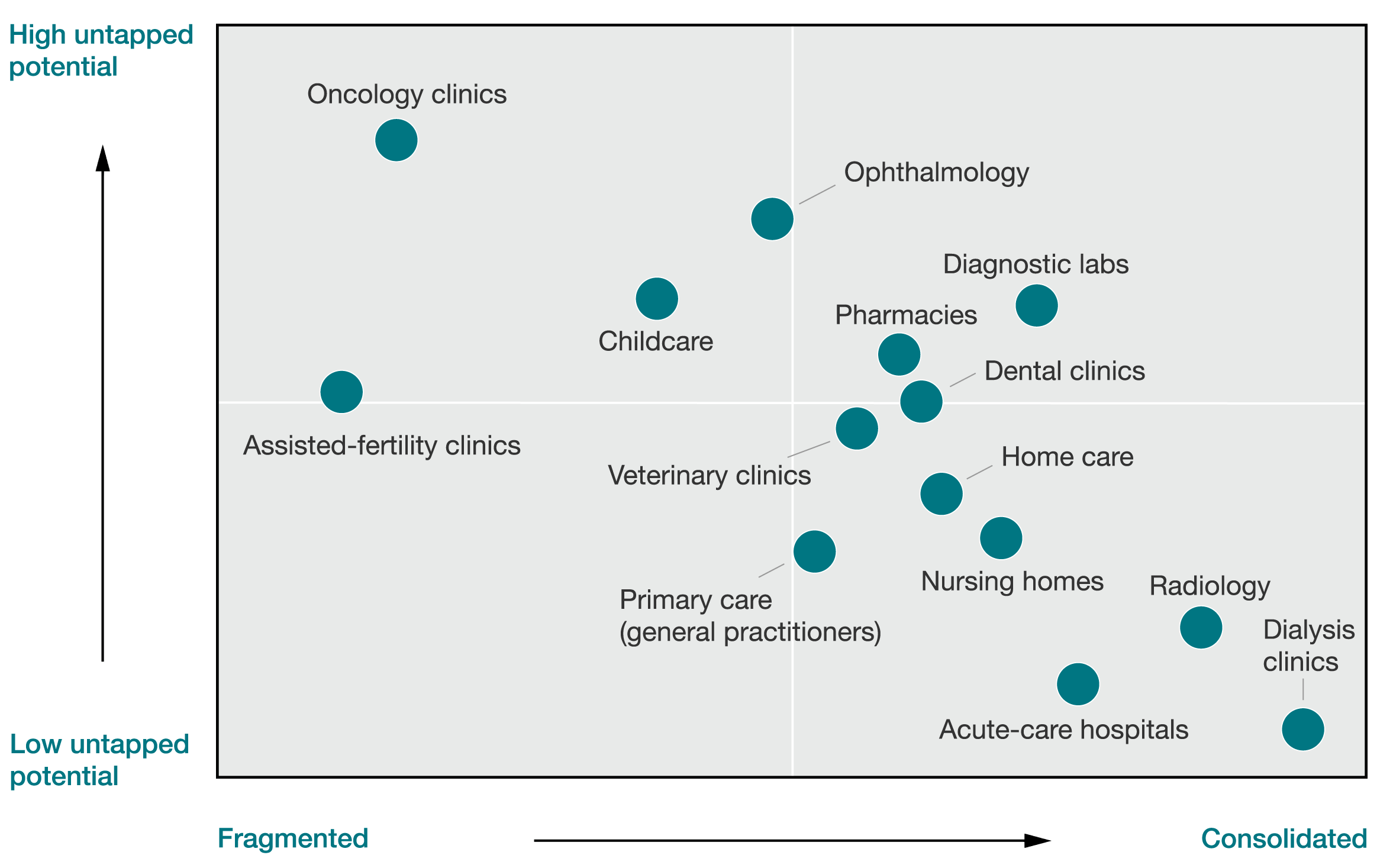 Source: McKinsey, October 2018³
Charlotte Bennett, Director, Coulter Partners, observes:

"Market consolidation in Life Sciences is a hot topic and we are seeing great successes in animal and human healthcare, including ophthalmology, dental, care homes, laboratory testing and aesthetics. The rationale for investors is the prospect of exciting returns from grouping together businesses – savings in procurement costs – creating efficiency and substantial value. There are great benefits too for the people within those businesses as well as for the consumer/patient."

A Model for Market Consolidation
In 2014 and for the last six years, Coulter Partners has worked with leading private equity investors on deals in the animal health sector. In one such case the team worked on 28 assignments for a roll-up across Europe, over which time the company grew nearly 4-fold. It was subsequently acquired by a leading petcare company. This veterinary clinic consolidation model illustrates just how well a strategic approach with strong leadership can work. When the initial investor started this project in animal health in 2011, they were quite unique and led the field, with a long-term vision that differentiated them.
Across Coulter Partners' portfolio, the company has observed interesting trends and points of differentiation between clients. The consolidations in human outpatient services and veterinary care, for example, have often focussed on removing barriers that prevent owners or founders from achieving their goals as opposed to being purely financial strategies. Many of these small independent, organisations face daily conflict in balancing business and patient care, or in gaining the professional development they seek whilst working in isolation. Access to funds, the best technologies, equipment, and staff, while managing a non 9-5 workflow, are also critical factors. Those investors who have achieved greatest success and market affinity within strong alumni environments, appear to have achieved this successfully with a recognition of these issues. Furthermore, investors have used models that incentivise practice owners and staff to remain and focus on clinical care in an autonomous fashion whilst supporting them through commercial growth.
In contrast, Coulter Partners has seen investors with more traditional buy, merge, consolidate, cost cut models, failing to capture the imagination and trust of their target markets in the same way. A more patient capital approach and a strong focus on values and culture have created some outstanding value growth stories.
Motivational Factors
A common theme across these small businesses is that many founders are medical professionals and not naturally highly commercial. The burden of running their organisations can seem at odds with their motivation to provide clinical care. Consolidation can offer a big win for many of them over and above the investment benefit, in that they can focus on what is important to them – providing the best possible care. Having devoted their careers to a practice, they see the investment strategy as more than a vehicle for improving financial performance. They see it as a way of delivering better outcomes for patients.
What underpins this is having the right talent, and the understanding that without the engagement and commitment of a forward-thinking team, value growth is challenged.
Talent Implications
Coulter Partners has been tasked to find HQ, Regional and Country Managers, M&A specialists and deal makers for various market consolidation projects and noted some differences in deal making approach. Company acquisitions generally involve a third-party intermediary. In recent consolidations we have worked on, we have observed more direct involvement with founder owners of the businesses, who have devoted their careers to building success of a practice for example. The deal makers Coulter Partners has been looking for are therefore highly relationship orientated and driven by business impact, and less by deal size and value; in fact business deal sizes are frequently in the low rather than hundreds of millions.
"This attracts a different type of talent and not someone who wants to have their name in the press because of a substantial deal. It's about higher volume, lower price deals and there's a different paradigm for such M&A people. Very often the levers that secure the deal are not financial and many of the business owners or founders are not first and foremost commercially minded. They may be nearing retirement and want someone to buy their business to secure provision for their community or secure the jobs of their staff. There are all sorts of differences from the usual M&A profile," says Charlotte Bennett.
Finding the right person involves careful evaluation of personality fit and motivation and a great deal of groundwork is required. Coulter Partners has been privileged to work with some of the first people consolidating their businesses in this way. Those appointed have been pioneering a new landscape. For many M&A candidates currently in big corporations, the competitive situation means that the opportunity to impact deal success is slim. While they may be doing bigger deals, they won't be doing so many or getting rounded experience. The potential in these newer spaces can be very attractive and candidates can see very quickly the impact they're having on the businesses.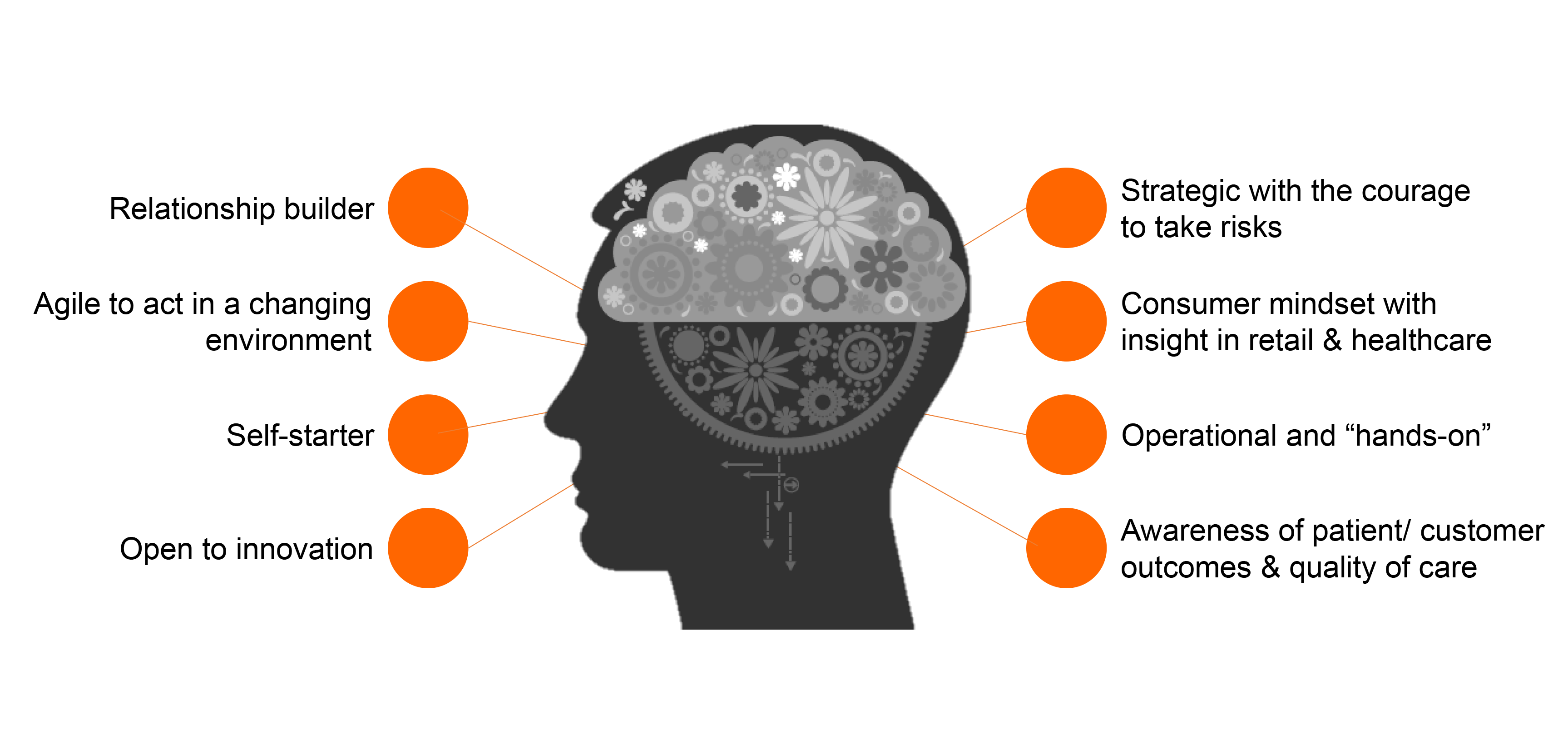 Unique leadership attributes critical for success
Current observations
Following a recent deep dive into their portfolios and despite the COVID-19 pandemic, Coulter Partners has noted that most private equity funds are still actively deploying capital in outpatient services, clinics and retail health. Ophthalmology, dental, aesthetics, animal health and dermatology chains remain popular segments amongst investors, while orthopaedics, gastroenterology, oncology, wellness, behavioural health and fertility clinics are getting increased focus. These areas, especially in Europe, are highly fragmented and relatively under-capitalised, and frequently also offer ancillary services such as surgery and imaging centres, increasing their attractiveness to investors⁴. Reimbursement and regulatory considerations across diverse geographies are also important factors to consider, as is the growing demand for more technologically advanced services and the deployment of digital platforms. Coulter Partners is currently working with over 50 venture capital and private equity funds across US, APAC and EMEA, many of whom have healthcare services companies within their active portfolios. Consulting and working closely with these clients, the global team has built a deep understanding of how to help with assessment and hiring of the special kinds of talent needed to grow value and create exceptional returns. Coulter Partners works extensively on roll- up, carve out, MBO, LBO and all kinds of deal scenario in the health and life sciences sectors and additionally works with funds on their own team hiring.
Outpatient Services Show Case
A selection of Coulter Partners projects:
25+ senior executive roles across several geographies, for one of Europe's leading providers of quality veterinary care, animal hospitals and clinics offering a wide range of medical, diagnostics, internal medicine, intensive care, surgery and orthopaedics services. Roles to date include but are not limited to:

9 European Region or Country Managers
6 Senior Country Finance Executives
5 M&A/ Business Strategy Executives

Three roles, Chair, Managing Director Operations/ Member of the Executive Board and Head of Human Resources, for a high-growth European outpatient services company, providing ophthalmology diagnostics services and treatments. The group has a current network comprising 16 surgical centres and c.30 treatment clinics.
Co-Head M&A for an established and top tier provider of outpatient ophthalmology services operating through c.80 clinics across Germany. The company offers a broad spectrum of specialised ophthalmic treatments and provides high quality medical care and surgical treatments to both public and private patients
Two Board Directors for a US-based dental services organisation providing integrated oral health solutions and direct patient care through a network of 85+ oral health centres
EVP Strategy & Unit President for a provider of business support services to independent dentists in the US
SVP, Operations for a US provider of health management services, insurance and managed care
Notes
Global Healthcare Private Equity and Corporate M&A Report 2020, Bain, March 2020
Retail Healthcare Continues to Consolidate in Europe, Bain, June 2019
Finding untapped potential in European healthcare service providers, McKinsey, October 2018
PE Investment in Physician Practice Management ‒ What's to Come in 2019?, BakerHostetler, February 2019
Authors: Neha Rajdev, Business Intelligence Consultant and Alison James, Director, PR and Marketing