SHOWCASE SERIES - Ophthalmology
Dominating the global headlines once more, eye health continues to be a focus for many ground-breaking developments, M&A and investment activity. Considered our most important sensory organ, the eye provides medical professionals with a window not only into our ocular health but also other conditions from cardiovascular disorders to diabetes and Alzheimer's. Ophthalmology, the branch of medicine dealing with the diagnosis, treatment and prevention of diseases of the eye and visual system, is entering a new era of drug development, innovative treatments, breakthrough early-stage diagnostics and other significant technological advances. Coulter Partners brings you latest trends and news of our own increasing involvement as leadership advisors in the Ophthalmology sector.
The global Ophthalmology drugs & devices market is expected to reach USD 36.95. billion by 2025, from USD 27.52 billion in 2017 (CAGR of 4.3% from 2018 to 2025¹). Ageing global populations and changes in demographics are key growth drivers, which reflect the increasing prevalence of intraocular eye disorders such as cataract, glaucoma, age-related macular degeneration and diabetic retinopathy. In parallel, an increased awareness among payors and patients of the benefits of preventative eye care for overall health and wellness is also propelling industry growth. Technology advances across the Life Sciences have given rise to novel early diagnostics and less invasive, cutting-edge treatments. AI, 3D printing, bionic implants, smartphone-based diagnostics, advancing gene and cell-therapy are just some of the technologies and applications that are set to transform the industry over coming years. Evolving at an astonishing pace, recent developments have included FDA approval in 2018 of the first artificial iris available in the US², and European approval of the first gene therapy for inherited blindness.³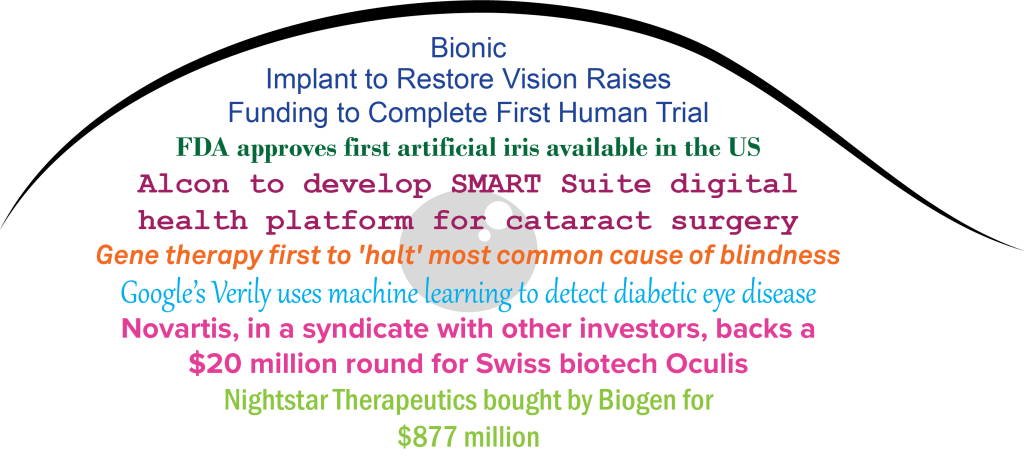 Investment & Strategic Acquisition
The future of eye care is generating extensive interest from investors and is attracting substantial international research funding to the Ophthalmology space. According to CBInsights, Ophthalmology funding and deals have trended upward over the past five years, with 2017 witnessing 114 deals in the eye health space, totalling $1.5B in funding. The pace of investment and disruption is expected to accelerate further with many significant new technologies on the horizon⁴.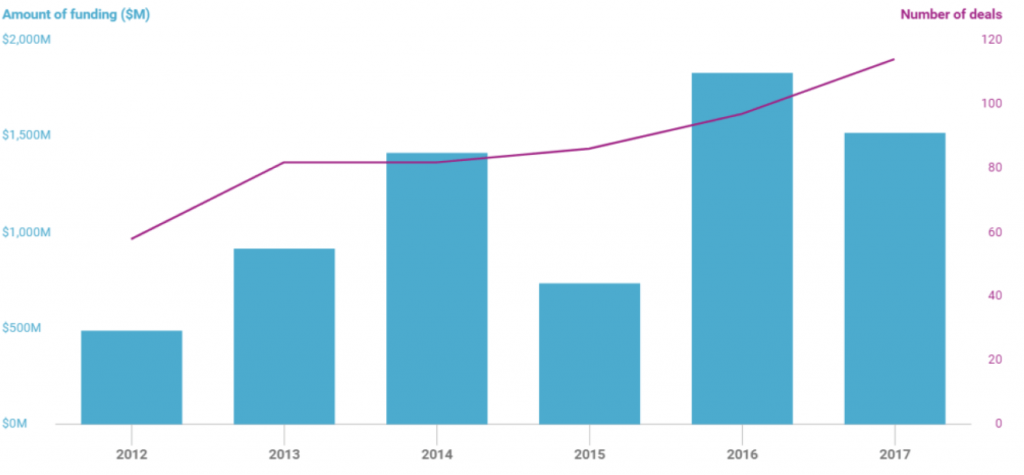 Deals in the eye health space continue to rise (Source: CBInsights, October 2018)
Strategic acquisitions have also featured significantly in the last few years. Larger Pharma and Medical Device organisations have been acquiring smaller innovative players for some time now, to reap the rewards of new technologies and diverse pipelines, as well as to increase their geographic footprint. In 2017 for example, Medtech leader Carl Zeiss Meditec Inc., acquired Veracity Innovations, LLC, a U.S.-based medical software company, in order to expand their eye care-based digital solutions portfolio. In the same year, Novartis completed their acquisition of Encore Vision, a company focused on the development of a novel treatment in presbyopia, in order to bolster their Ophthalmology pipeline. Acquisitions have not been limited to the smaller players; in late 2016, Johnson & Johnson announced its $4billion acquisition of Abbott Medical Optics, a wholly-owned subsidiary of Abbot, stating "…with the addition of AMO's world-renowned Ophthalmic surgery business, J&J Vision is poised to become a world leader in eye health" ⁵. In March 2019 Biogen announced plans to acquire London-based gene therapy company Nightstar Therapeutics Plc, a company focused on adeno-associated virus (AAV) treatments for inherited retinal disorders. Michel Vounatsos, Chief Executive Officer of Biogen, commented that this acquisition would accelerate Biogen's entry into Ophthalmology "by contributing two mid- to late-stage gene therapy assets." ⁶
The Coulter Partners Team: Talent aspects in Ophthalmology
Coulter Partners is privileged to be working closely with many Ophthalmology drug and device companies at the forefront of innovation as well as with investors and patient service providers. The breadth of our work spans everything from Board, C-suite and leadership roles for up and coming early-stage Biotechs, to servicing the needs of growing leadership teams in large Pharma and Medtech organisations involved in strategic acquisition and diversification. We are also building a strong track record in the healthcare services sector, where Ophthalmology market roll-ups are necessitating a new breed of M&A specialist and other newly defined skill sets.
Against the backdrop of rapid advances, development and investment in innovative Ophthalmic medical devices, Client Partner, Graham Johnson observes:
"There is a shortage of in-depth experience and knowledge in the space. We are seeing a great need for crossover skills and talent from other sectors, indications and franchises within Pharma, and from other relevant parts of the medical device industry, particularly implantable medical devices. Coulter Partners' global connections and specialist expertise means we know how and where to identify the right talent and this crossover area is a great strength of ours."
Client Partner, Nona Footz adds:
"Coulter Partners has global Ophthalmology success stories with large cap, mid-cap and small cap companies in roles including R&D, medical affairs, healthcare economics, strategic global marketing and corporate development. Our work has been mainly medical device and surgery based and the focus in Ophthalmology is largely swinging in that direction. Larger clients are open to leaders from outside Ophthalmology, providing candidates have had Class 2 or Class 3 medical device experience. As Graham alluded to, there is quite a defined and identifiable universe of talent in Ophthalmology, in contrast to the extensive talent pools for oncology, the cardiovascular space etc. The early stage companies that are springing up are needing to attract some talent from the bigger pharma corporates and so there is a good deal of migration."
Graham comments that the key opinion leaders and the go-to people in the market with whom Coulter Partners interact regularly, tend to present a very different profile from those sought for traditional pharmaceutical medical device roles. Talent is specialised and the cross over skills he describes aren't really found in the physician community, who tend only to complete 5 or 6 weeks of Ophthalmology as part of their training.
Graham adds,
"This reflects what's also happening within the digital health space. We've been active where companies want to bring machine learning technology/AI into the healthcare industry. They need people who understand healthcare – researchers, physicians and business leaders. On the other hand, there is also a need to manipulate the data that's now available and this requires different skills and profiles. Data analysts and data scientists are a priority and don't necessarily need to understand a great deal about healthcare. Companies ideally need hybrid talent with the skills to fully exploit the opportunities and that's where there is currently a big hole."⁷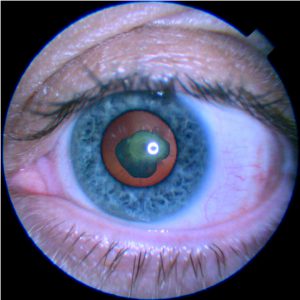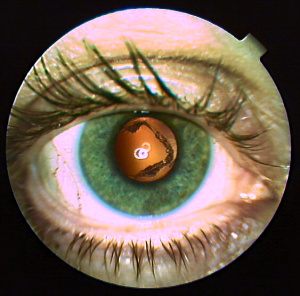 Congenital Cataract Capsule Post YAG Laser Surgery

Quentin's View: Asia-Pacific and its Medical Affairs Evolution
The APAC region is an unsaturated market in Ophthalmology, particularly in China and India, and is expected to grow most quickly with rising awareness of eye diseases and increasing disposable income. Senior Consultant, Quentin Oerlemans notes:
"In our conversations with physicians and industry professionals across China, India, Singapore and Hong Kong we have observed a significant evolution in Ophthalmology companies' strategy: Medical Affairs Leaders have become strategic and agile partners working closely with commercial and R&D. Ophthalmology companies such as Alcon, Johnson & Johnson and Bausch & Lomb felt the need to create dedicated regional or country specific Medical Affairs teams a decade ago in the region. By creating MSL teams working with professionals, customers and clinics, businesses have built real-world evidence capabilities with KOLs to support claims. This has had a significant impact on sales and increased credibility with products that truly target the specific needs of patients."
Quentin adds that in the last few years, Coulter Partners has also observed important changes in overall strategy from APAC's largest Ophthalmology businesses:
A more digital and data-driven, more payer focused, and overall more medical model is now the norm. Across medical device, pharmaceutical and consumer enterprises, digital and blended integrated education strategies are implemented on a significant scale.
The model now also emphasizes Patient Centricity, positioning patient needs and science at the centre while moving towards a differentiated approach for launching new products.
There is a bigger and more strategic role for medical in the region with an increasing influence over commercial strategy.
Director of Production, Emma Hiom exemplifies some of the individual specialist talent Coulter Partners can draw on in this space:
"With extensive international experience as an Ophthalmic Specialist Nurse, I have been able to leverage my knowledge and connections working on pan-European, US and APAC Ophthalmology focused executive searches."
At the prestigious King Khaled Eye Specialist hospital in Riyadh, Saudi Arabia, Emma managed a large multi-national team of nurses alongside an elite team of resident and visiting Ophthalmologists and leading specialists from around the world. Having qualified as an E.N.B. 346 Ophthalmic Specialist Nurse at Moorfields Eye Hospital, London, she has held clinical roles in specialist units, in the community and in A&E.
Coulter Partners' strong track record in Ophthalmology is illustrated in the following case studies; the list is intended to offer a sample of senior-level search assignments and is by no means comprehensive:
Lead-Ophthalmology and VP Global Regulatory at a clinical stage biotech company developing RNA-based therapies for severe genetic disorders and Ophthalmology. Headquartered in Europe and with a presence in Cambridge, MA and San Francisco.

Chief Medical Officer for a US-based a clinical-stage biopharmaceutical company, focussing on developing immunomodulatory therapies for the treatment of diseases in several therapeutic areas, including Ophthalmology.

Head, Global Clinical Development & Medical Affairs and two further Regional Medical Affairs roles for US headquartered global leader in the development and commercialisation of Ophthalmology pharmaceuticals, surgical devices and consumer products.

Global Medical Affairs Director Uveitis for a big US-based Biopharma company with one of the world's largest pharmaceutical brands.

Chief Medical Officer and Board Director for a UK-headquartered stem cell therapies company targeting arterial and retinal diseases.

General Manager, US for the Ophthalmology franchise of a Specialty Pharma company.

International HR Director, and Head of Development for a speciality Ophthalmic company.

CEO for a UK headquartered company focussed on R&D and commercialisation of adaptive Ophthalmic lenses.

Chief Medical Officer, Ophthalmology and Corporate Regulatory Affairs for a European rare and orphan diseases company.

US President (East Coast), for a company developing Encapsulated Cell Technology (ECT) products for the treatment of retinal diseases. Their mission is to become a leading player in drug delivery for the back of the eye.

Country Manager France, Director Sales EMEA and Global Product Manager for a global provider of Ophthalmology and diagnostic devices and intraocular lenses, headquartered in Asia.

Managing Director Operations, Member of the Executive Board for a high-growth outpatient services company, providing Ophthalmology diagnostics services and treatments.

Head of M&A for a private-equity backed provider of Ophthalmic treatments and medical care services.

European Sales Performance Manager for a UK-based manufacturer of intraocular lenses and injection devices, used in cataract surgery.

Chairman of the Board for a VC backed Biotech company, leveraging its proprietary technology to develop non-viral gene therapies for ocular diseases.

Global Business Development Director – Neuroscience, Ophthalmology and Rare Diseases for a global pharmaceuticals and diagnostics leader.

General Manager UK for a multinational specialty pharmaceutical company, whose portfolio includes eye health.
Notes
1. Global Ophthalmology Drugs & Devices Market – Industry Trends and Forecast to 2025, Data Bridge Market Research, Oct. 2018
2. FDA approves first artificial iris available in the U.S., FierceBiotech, May 2018
3. First Gene Therapy for Inherited Blindness Approved in Europe, Novartis, November 2018
4. Disrupting Eye Healthcare, CBInsights, October 2018
5. Johnson & Johnson Completes Acquisition of Abbott Medical Optics, Johnson & Johnson, February 2017
6. Biogen Announces Agreement to Acquire Nightstar Therapeutics to Establish Clinical Pipeline of Gene Therapy Candidates in Ophthalmology, Globe Newswire, March 2019
7. In 2018, Coulter Partners interviewed Jay Lakhani, CEO of Visulytix, a company using Artificial Intelligence and Deep Learning for the early detection of sight threatening conditions. Further details can be found here: http://www.coulterpartners.com/ceo-perspective-jay-lakhani-ceo-of-visulytix/
Authors: Neha Rajdev, Senior Business Intelligence Associate and Alison James, Director, PR and Marketing

Photographs courtesy of: Brian Tompkins BSc Hons FCOptom FBCLA MD and Boss Optometrist at TK&S Optometrists Ltd