SHOWCASE SERIES - Cell and Gene Therapies
The Surge in Cell and Gene Therapies
The Cell and Gene Therapy (CGT) sector is booming. Despite their scientific and clinical complexities, numerous advanced biological products are bringing notable treatment efficacy across multiple therapeutic areas based on their ability to deliver precision medicine. The Food and Drug Administration (FDA) predicts that by 2025 it will be approving 10 to 20 CGT products a year based on an assessment of the current pipeline and the clinical success rates. The advent of safe and effective vectors for the delivery of gene therapy products, such as the adoption of adeno-associated virus (AAV) vectors, marked an inflection point in the development of these therapies, driving a surge in new products.1
Healthcare investors are fast recognising the potential of these transformative new modalities, some creating dedicated funds for innovative CGT biotech start-ups, such as the UK's 4Bio Capital's Ventures II fund. Despite the pandemic market uncertainties, CGT biotechs are continuing to secure large funding rounds; for example, ElevateBio's recent bumper $170 million Series B and UK biotech Freeline's $120 million recent Series C raise and subsequent IPO announcement.
Larger, traditional pharma is also intensively investing and partnering very actively in this space; 16 of the top 20 biopharma companies (by revenue) now have CGT products in their portfolio/ pipeline.2 According to Reuters analysis, eleven drug makers, with notable examples being Pfizer and Novartis, have set aside a combined $2 billion to invest in gene therapy manufacturing since 2018.3 In recent months we have seen several large healthcare companies make the headlines: "GlaxoSmithKline hands Samsung Biologics $231 million to scale up manufacturing", "Merck set to build $100 million facility for viral and gene therapies", "Thermo Fisher to invest $180 million in new gene therapy plant", are just a few examples.
The sector's prominence and promise has been reinforced by governments worldwide, particularly in the face of the COVID-19 pandemic. In July this year, for example, the UK government awarded £100 million to fund the Cell and Gene Therapy Manufacturing Innovation Centre to develop CHT manufacturing capabilities; similar announcements have been noted in the US and Asia, with various very significant funding grants and investment from government bodies, as well as creative alliances with industry.
From 'green shoots' to production at scale
Accelerated advancements in CGT have led to high clinical trial numbers. As of Q3 2019, more than 3,300 phase- II to phase-IV cell and gene therapy trials were underway,4 creating pressures to rapidly manufacture products at scale, with the additional challenges of applying new and emerging CGT technologies. Keeping up with demand, investment in manufacturing capacity has seen huge growth in recent years, and despite the COVID-19 pandemic, growth has continued in 2020; in June for example Emergent Biosolutions' announced a $75 million expansion to produce viral vectors for their expanding gene therapy business.
The journey to "scale-up" however, is not without its challenges:
Harmonisation: The pace of change in CGT manufacturing and required customer specificities has meant that production sites are limited in their application learnings from one customer to another. Coulter Partners recently spoke with Tom Hochuli, a former Site Head at one of the largest CGT manufacturing plants globally, located in Texas, and is now Chief Executive Office at Vibalogics, a virotherapy CDMO, where he will be bringing on line a new commercial facility in the US Northeast:

This uniqueness has led to challenges in compatibility across technologies, processes and operations. Harmonisation of systems or equipment is extremely challenging because of the multitude of approaches, with each process needing to be developed to suit a specific bioreactor. Additionally, the sheer newness of CGT has meant a limited pool of strong players in the market to dictate common standards or "best practices". As a wider adoption of standards develops, it is anticipated that there will be learnings and a streamlining of processes over time, avoiding the need constantly to re-invent the wheel.
Regulatory comfort levels: The speed at which CGT is evolving has put regulation and compliance in the spotlight. Unlike traditional therapies, CGTs are "live" biological therapeutics and differ hugely from small molecules and other biologics. There are hundreds of cell types and different viral vectors, working in unique ways and manufactured using different techniques and technology, all making standardisation problematic. Regulators are trying to keep pace with the science and technology to better understand the products and processes, but it is new for them too. The convergence of regulatory frameworks between countries is progressing but the development of advancing production processes is progressing faster. This is inevitably creating uncertainties for manufacturers as regulators seek to ensure safety and efficacy across the industry, and across the world.
Capacity & scalability: The pressures on CGT players to have manufacturing control and sufficient facilities to produce different clinical product batches, as well as commercial scale supply, have seen companies recently make large capital investments in new manufacturing facilities, e.g. Novartis' $500 million plan to scale-up gene therapy manufacturing and Pfizer's $600 million allocation to build its own gene therapy manufacturing plants.
Although some organisations continue to partner with contract manufacturers for their production capabilities, having control of in-house manufacturing facilities is widely acknowledged as key to successful product development and launch, as well as facilitating the development of required in-house knowledge and expertise. Customers are driving as quickly as possible to get through approval processes in response to patient needs and shareholder demands. This has been putting manufacturers under pressure to accelerate the scale up of products from the lab, without taking sufficient time to fully design processes for manufacturing optimisation.
Supply chain & speed: CGT processes are complex and costly, working on very short development times compared to other biologics. Specialised manufacturing processes need to be conducted at a rapid pace due to the nature of product (human tissue or patient cells for example). Whether autologous or allogeneic, ex vivo or in vivo, any disruption in process or supply chain could potentially ruin the product or have treatment implications for the patient. Furthermore, manufacturers rely on items which are frequently in short supply; the market is ramping up quickly, with many supplies unique to the sector. The heavy reliance on niche products, for example custom made single-use bioreactor bags or cell stacks, means that companies are at the mercy of limited producers and a flawed supply chain… and one that can be easily disrupted by adverse events, such as a global pandemic. A recent McKinsey survey of some 20 European and US CGT companies reports of considerable supply chain challenges during the COVID-19 pandemic due to the very nature of the industry's complex manufacturing models and the need for timely delivery of therapies to clinical sites and patients.5
Automation: The majority of CGT manufacturing processes require human intervention and there are still many manual processes in place. For scalability, optimisation and profitability it's important to minimise human intervention but this can take time and requires large investment. As Tom notes:

The Talent Pipeline. How to keep pace with manufacturing expansion
The growth of CGT has given rise to a huge demand in the Life Science market for the right leadership talent to drive its progress and optimise manufacturing practices. Companies need to train new and upskill existing team members, while competing for expert talent from the laboratory through to the executive team.
Scarcity: The newness of CGT, with its associated emerging technologies and processes, and the explosion in demand, means there is a limited talent pool, with a shortage of technical and senior leadership with the ideal industry-specific experience. There are still few approved gene therapy products and it's a requisite to be able to navigate through complex production development with hundreds more processes than traditional pharmaceutical manufacture. Furthermore, an understanding of the regulatory framework around CGT, which is continually evolving, adds a further challenge. Coulter Partners' clients are asking for help with finding the rare but ideal formula of specific academic, process development and GMP manufacturing experience, combined with broader industry and commercial awareness.
Coulter Partners' Senior Consultant, David Kassel observes:
"In the US, there is a growing desire for people with direct experience in cell and gene therapy manufacturing. We've had two recent cases where a manufacturing or technical operations executive needed to have that specific experience along with prior work in the design and/or build of a manufacturing facility for cell and gene therapies, or at the very least, complex biologics. This is a challenge as not many people have this combination of experience in their backgrounds." Coulter Partners' Executive Director Philipp Buis adds, "In Europe we see very little experienced talent especially when it comes to specific technologies such as viral vector production, cancer-targeted gene therapies and/ or vectorized vaccines."
Bianca Coulter notes:

Skillsets & experience: Broadly speaking, there are valuable overlaps between bio-manufacturing and cell and gene therapy production. In parts of the business, certain skillsets can be viewed as "transferable". People with experience in the manufacture of biological drugs and vaccines for example can in some cases apply/ adapt their skills, approaches and methods to CGT with comparative ease; many of the upstream processes for example are similar to those for broader biologics.6Tom Hochuli notes "The basic technician/operator/manufacturing associate can bring skill sets from outside the industry… all have a science background in microbiology, bio- medical science or bioengineering and can be trained in basic aseptic manufacturing. Basic compliance and regulatory skills can come from the pharma or biologics industry…you don't have to understand the science in detail but need the experience."
The challenge arises when seeking out more senior profiles in product development, where specific CGT experience is imperative. These individuals are often not located near the site, demand hefty compensation packages to reflect niche, in-demand skillsets and are highly competed for. In addition, further training in unique CGT processes and upskilling is still required. Tom Hochuli observes "For process development and quality or assay development, you really need to have specific CGT experience, and this has been the biggest challenge … most prospective candidates have had at least five years in the industry and with this base, we can then bring in junior scientists and train them. While certain common repetitive functions are being carried out, the unique CGT processes can be taught alongside."
For leadership roles such as Site Heads or VPs of Manufacturing or senior roles in process and assay development, Coulter Partners has noted that clients look for up to 15 to 20 years' experience and in an industry only a few decades old, that extensive experience is rare and highly sought after. Philipp Buis notes:

"In many situations specific experience in designing and building/ scaling production sites is imperative… even CDMOs who claim to be experts in the space quite often don´t really have the necessary or ideal expertise," he adds.
Graham Johnson, Client Partner at Coulter Partners observes, "Our recent assignments in this niche area have required us to be more innovative and look closely at transferable skills and agile mindsets."
Agility: Senior talent needs to be nimble and open to change, as manufacturers strive to streamline operating models and adopt new technologies. Each patient requirement is unique. Through our experience working with CGT clients, Coulter Partners has observed that an agile mind-set and the ability to quickly adjust to continually changing customer needs is key. Competency to operate cross-functionally is increasingly being viewed as a hiring priority. In a highly competitive and rapidly evolving field, leaders need to be visionary and forward thinking, but with a commercial mindset to work effectively alongside other business units for efficiency and desired outcomes. This has surfaced particularly in recent months during the pressures created by the COVID-19 pandemic.
Location: So niche is the experienced talent that CGT manufacturers are choosing site locations which are more likely to already have a ready skilled talent pool, particularly as the nature of many roles demands teams to be site-based. Clients have noted that a lack of skilled available talent is forcing companies to pay over the odds to locate in prime biotech hubs e.g. – Boston, Philadelphia and Raleigh in the US – Oxford and Cambridge in the UK – and across the European mainland in known bio-centres such as Basel, Zurich, Amsterdam, Brussels, Munich etc.. Many still need to attract fresh talent in, paying hefty re-location packages along the way, in order to secure the most skilled. Philipp Buis observes, "In some of our senior leadership searches in Europe, broader complex biologics experience was considered but where it was not, we had to expand the geographical scope significantly, especially towards the US or Singapore, where CGT manufacturing is already better established." Academic institutes and universities are beginning to address this skill-deficit through the establishment of industry-relevant degrees in Biomanufacturing Process for example, to produce trained graduates geared to enter the field. Institutes such as International Society of Cell & Gene Therapy (ISCT) have introduced industry mentors, patient education committees and a range of cell therapy training courses. This could have future implications for the formation and growth of CGT talent hubs around universities and academic institutions.
Planning: In an industry where time is of the essence, CGT companies are under immense pressure to plan… plan future manufacturing capabilities, plan supply chain, plan the commercial strategy and plan for a pipeline of skilled talent for success. Few have the desired experience and technical expertise, and those that do, keep manufacturers on their toes.

Covid-19 – "new normals" for CGT manufacturing leadership
The Covid-19 pandemic has seen several leading CGT companies scale-up at previously almost unimaginable speed. The global race for a vaccine has seen the likes of CGT forerunners, Moderna and Novartis's AveXis, address production planning alongside discovery and development. As demand continues to grow, leadership planning has remained firmly on the agenda of CGT manufacturers and biotechs. Coulter Partners has been heavily involved with related senior appointments, in which recently the entire process has been handled "virtually"/remotely. In some cases, the hiring process included several rounds of remote client interviews and virtual site visits and ultimately appointments, in some cases with candidate re-location. The hiring process in a virtual setting has worked surprisingly well for senior positions which typically would involve lengthy site visits.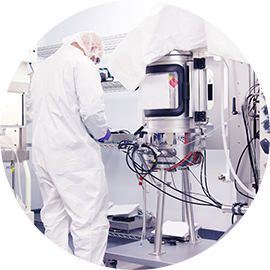 Perhaps the industry is, like others, setting "new norms" for the future hiring processes of senior leadership. In recent months, we have observed that hiring for senior CGT production development and technical operations roles has continued at pace. Our clients are thinking now about hiring post- pandemic; these "rare to find" candidates are ironically more accessible in a pandemic lockdown scenario, than before. The pandemic has also shown the world that nimbleness is paramount – agile leadership, adaptable processes, additional production capacity and versatility of facilities, have all proven to be invaluable as several CGT players switched their focus to vaccine production almost overnight. Contingency planning is more important than ever as this young industry develops so rapidly its "new normal" for CGT manufacturing and supply chain.
Coulter Partners' expertise
Coulter Partners has been engaged in a wide range of senior manufacturing role assignments in the US, Europe and APAC with clients focussed on cell and gene therapy, biologics and vaccines. In recent years we have conducted 100+ assignments in technical operations, manufacturing and product development, with an extensive track record in leadership assignments specifically for CGT companies seeking niche talent. Working closely with our clients and regularly speaking to hundreds of experts and leaders in our industry networks, we have built a deep understanding of the leadership challenges faced specifically in CGT product development.
Examples of our recent placements include but are not limited to:
Two roles, SVP Technical Operations and Executive Director Process Development, for a US developer of T-cells for the treatment of cancers
Chief Manufacturing Officer for a Publicly listed European developer of gene therapies for rare diseases
Regional Head Operations, eight US Site Head roles and Senior Manager Biologics Manufacturing for a leading European CGT contract manufacturer
VP Manufacturing & Supply Chain for a privately owned, clinical-stage biologics drug developer headquartered in Benelux
Head of Process Development Germany for a top 20 global Pharma company
VP CMC for a privately held, clinical stage UK biotech focussed on T-cell receptor technology
Head of Manufacturing for a privately owned US gene therapy and oncology biotech
Executive Director, Biologics Upstream Process Development for US-headquartered global biopharma company focussed on vaccines, biologic therapies and animal health
SVP Manufacturing & Supply Chain Management for a Nordic gene therapy manufacturer
Head of Manufacturing for a UK-headquartered developer of exosome-based therapeutics
Head of CMC, viral vector producer, Benelux
Global of Head of Business Development, to promote the newly created CGT production capacity for a privately owned, full service Nordic CDMO
Sources
Statement from FDA Commissioner Scott Gottlieb, D. and Peter Marks, M.D., Ph.D., Director of the Center for Biologics Evaluation and Research on new policies to advance development of safe and effective cell and gene therapies, January 2019
Biopharma portfolio strategy in the era of cell and gene therapy, McKinsey, April 2020
Pfizer, Novartis lead $2 billion spending spree on gene therapy production, Reuters, November 2019
2020 global life sciences outlook, Deloitte, February 2020
COVID-19 and cell and gene therapy: How to keep innovation on track, McKinsey, August 2020
Mining Talent in Cell and Gene Therapy Manufacturing, Biggins Lacy Shapiro & Co., January 2019
Authors: Neha Rajdev, Consultant, Business Intelligence and Alison James, Director, PR and Marketing