SHOWCASE SERIES - Medical Technology 2020
Smart Medtech for the 2020s
Historically a siloed industry focussed on hardware and equipment, medtech has evolved into a complex landscape encompassing everything from artificial intelligence-enabled imaging and wearable devices to implantable bioelectronics and surgical robots. Convergence of technologies, the shift from hardware to software and the rate of digital disruption, along with increased patient empowerment, diversification and the rise in consumer-technology, are fast changing traditional models. With a geriatric population predicted by the WHO to reach 1.5 billion by 2050¹ and chronic and lifestyle diseases increasing as a result, the demand for medical devices and advanced technology continues to grow year-on-year. 2018 saw medtech's third consecutive year of growth with collective revenues increasing by 7% to US$407.2 billion². Investor interest in the sector remains keen and the arrival of non-traditional entrants continues to drive a highly competitive landscape and strong M&A activity.
Evolving landscapes dictate new talent and leadership needs
Partnering with clients to address transformation challenges and their impact on senior talent and leadership needs, Coulter Partners has helped companies to re-think business models and hire the right teams to lead them to sustainable commercial success. Coulter Partners' conversations with medtech clients globally, reflect several significant common trends across the sector:
Pricing pressures and the increasing complexity of global regulatory requirements are challenges for all medtech companies. EU markets face the challenge of certifying new, and re-certifying existing products to meet the forthcoming Medical Device Regulation (MDR) and In Vitro Diagnostic Regulation (IVDR) which come into force in 2020. More stringent assessment/inspection of product performance and patient safety is raising compliance challenges across the entire supply chain, and ultimately creating a higher cost base. Coulter Partners has been required to fill a range of regulatory and compliance roles across the medtech continuum and has noticed a bridging of biopharma and medtech talent pools for regulatory or compliance searches, especially for more sophisticated class 3 devices (e.g. implantables). All this regulatory change and increased scrutiny has driven the demand for better clinical data, health economics intelligence and medical endorsement. As a result, medical credibility, clinical expertise, agility and versatility are fast becoming top priorities for senior regulatory hiring. We have additionally seen a huge push for market access, pricing and reimbursement specialists in the sector. Ten years ago, there was a shortage of talent with these desired skillsets and companies frequently hired in from pharma. Higher skill levels in medtech today remain strongly competed for and in high demand.
Digitalisation is fast enhancing traditional technologies, both on a supply chain-level, and in product development and manufacture. It is increasing operational efficiency (e.g. inventory management, distribution and logistics), while technologies like augmented reality and 3D printing are helping to reduce R&D timeframes and ultimately costs³. Medtech companies are now more data-driven, adopting connectivity technologies and practices which ensure devices provide optimal, real-time data analytics. Device manufacturers who are adept in implementing artificial intelligence and machine learning are now an attractive target for investors and competitors alike. In 2019 for example, Hill-Rom Holdings acquired Voalte, a real-time, mobile healthcare communications specialist for $180m, citing "the acquisition of Voalte accelerates Hill-Rom's leadership in care communications and advances the company's digital and mobile communications platform and capabilities." Non-traditional players like Apple and Google are also waking up to the opportunity that medtech presents. The convergence of medtech and tech sectors continues to accelerate and both Apple's iWatch and Alphabet's Verily health watch received FDA approval recently, confirming their growing success and acceptance in the sector.
The traditional face of medtech is metamorphosing. In the face of greater patient-centricity, physician shortages and a rise in consumer-tech, the transfer of huge data sets may help shift the emphasis from treatment to diagnosis and eventually prevention. This digital disruption means companies are seeking new and enhanced skillsets; it has become critical to hire leadership that understands the technology and its integral role across the product cycle and entire commercial model. Experience in data analytics, engineering and software are now increasing in importance and appear high on clients' hiring agendas. A shortage of skilled labour, especially data scientists and those with digital expertise, is especially apparent; Coulter Partners is continually exploring new and unconventional talent pools globally to identify individuals with the technological aptitude and creativity to build digital capabilities, alongside regulatory, reimbursement and clinical experience. Data science, connectivity and remote monitoring are additionally bringing new threats such as cyber-security to the forefront. New roles such as Chief Information Security Officer are being created. The importance of patient-centricity is also driving a demand for new roles such as Chief Patient Officer that ensure consumers sit at the heart of any commercial strategy.
The medtech industry has witnessed a wave of consolidation and partnering as a means to gain technological capabilities, improve operations and diversify portfolios, significantly altering the shape of the landscape and in turn business models and organisational priorities. Global medtech giants Medtronic, Boston Scientific, Stryker, and Johnson & Johnson have all made sizeable acquisitions over 2019 and the trend is looking to continue into the foreseeable future. New industry entrants, although viewed as a threat to traditional players, are also key targets for leveraging data analytics and product offerings. Companies are therefore seeking talent with the business development, influencing and alliance management skills to successfully seek out partnerships and collaborate effectively with external stakeholders. Flexibility, cultural-fit and agility are now key goals when hiring, as organisations remodel post-acquisition.
Global medtech R&D spend is set to grow by 4.5% (CAGR) to $39bn by 2024⁴; cost pressures are, however, forcing the industry to re-evaluate R&D and production efficiencies on a large scale; the adoption of digitalisation has helped to speed up processes in some cases but complex regulatory frameworks and skills-gaps are creating a re-categorisation of R&D priorities. Results from a recent Deloitte survey of medtech leaders cited that "R&D leaders are focusing on the following priorities over the next three to five years: diversification of portfolios (86 percent), accelerating time to market (82 percent), and leveraging real-world evidence (RWE) in product development"⁵. See Figure 1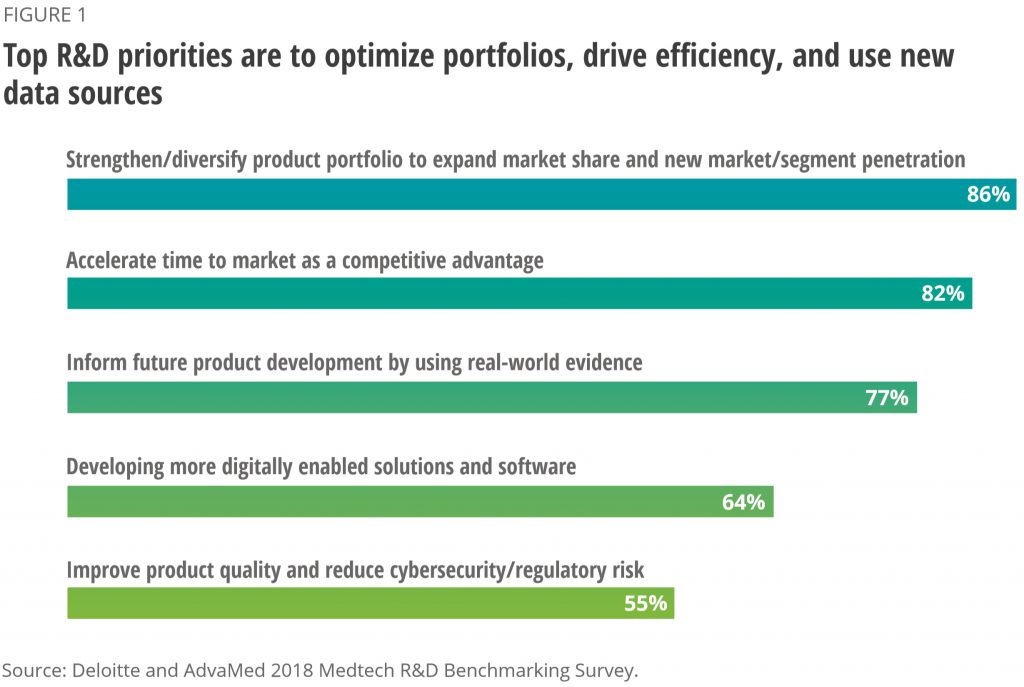 Innovation today is not only about R&D or digitalisation, but also about commercial creativity – with prices decreasing and costs rising, medtech companies are creating value by diversifying into services and delivery channels to capture a greater part of the value chain. Medtronic for example, recently set up their "Integrated Health Solutions" to provide partnerships designed to help healthcare providers enhance access, cost and quality care. This type of diversification requires strong negotiation skills, a creative mindset and understanding of the whole economic value proposition, no longer just the features of the product. Executives increasingly need to be more external facing and have a more holistic outlook to work with governments, hospital c-suite and payers.
Coulter Partners – Medtech Showcase
Coulter Partners has conducted over 250 recent executive search assignments in the US, EMEA and Asia Pacific across devices, diagnostics and health tech (including digital, mhealth, A.I. and wellbeing), for senior-level commercial, R&D, functional and board roles⁶. Strategically placed to serve clients across all these key geographies and industry segments, the company has developed a deep understanding of the challenges facing their medtech partners. With unrivalled access to diverse and game-changing leadership worldwide and unconventional talent pools across all Life Science sectors, the company has placed candidates from a diversity of industries including biotech, pharma, healthcare services, academia and speciality chemicals.
Here is a selection of C-suite and senior search assignments that Coulter Partners has executed for a range of large corporations, SMEs and fast growth companies, across the spectrum of medical technology:
Two Board Directors for a public US devices company focused on the development in the neurovascular space.

CEO for a developer of Life Science imaging products based in Benelux

VP Sales North America and Director Strategic Marketing for a UK based diagnostics company

Two European Cluster Business Unit Director roles for a large-cap US-headquartered developer of cardiology devices

SVP Lab Operations and 7 further roles for a NASDAQ listed molecular diagnostics and precision medicine company

Regional Head of Medical Affairs AsiaPac for a global ophthalmology products leader

Chief Medical Officer, VP Finance, VP Medical Development & Pharma Strategy and VP Biostatistics and eight further roles, for a NASDAQ-listed provider of genomic-based diagnostic tests

Chairman, Chief Financial Officer and VP Clinical Operations for a public Swiss medical device company

Three board roles, Chairman, Board Director and Chair of Audit Committee, for a European listed commercial-stage molecular diagnostics company

CEO for a European developer of optical molecular imaging technologies

Chief Operating Officer and Chief Financial Officer for a UK point of care diagnostics company

VP Commercial, VP R&D and VP Regulatory for a VC-backed European developer of a vascular stent technology

US-based CEO and a VP Business Development for a European manufacturer and distributor of in-vitro diagnostic equipment

VP Marketing & Market Access for a European VC-backed developer of implantable neuro-stimulation systems

UK Sales & Country Managing Director for a Private Equity-backed European supplier of surgical prosthetics

President US Operations for a European developer of regenerative medical technologies

VP Sales, VP Marketing, Business Development Director and Head of Manufacturing for a European manufacturer of medical devices for the global aesthetics industry

VP Clinical Affairs for a US client building integrated technologies in neuroscience

40+ European roles for a large-cap US-headquartered, internationally operating medtech corporation

Team build-out for a European manufacturer of specialist diagnostic products. Roles included Head of Assay R&D; Head of QA/RA; Operations Director; GM UK & Ireland and Head of Marketing

Multiple roles for a publicly held European ortho-biologics company. Roles included General Manager USA, General Manager Germany, Chief Financial Officer, EVP R&D
Sources
An Aging World 2015, World Health Organisation
Pulse of the industry 2019 – Medtech in 2019, EY
The digital era in the MedTech industry – Drivers for digitization, Deloitte
World Preview 2018 Outlook to 2024, EvaluateMedtech
The next wave of innovation – Technology and value-based care are transforming medtech R&D, Deloitte
Executive search assignments conducted by Coulter Partners since 2014 for medical technology, devices, diagnostics, digital and healthcare IT clients
Author: Neha Rajdev, Senior Business Intelligence Associate